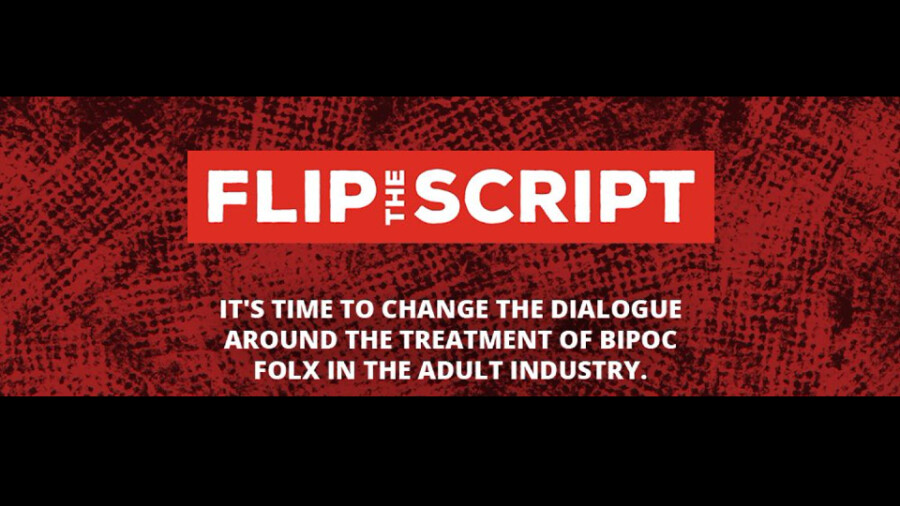 SAN FRANCISCO — Kink.com, in partnership with BIPOC performers, activists and educators, has announced a series of virtual panels titled "Flip the Script" to interrogate issues of "race, representation and power in the adult industry and the kink community."
Daily panels are scheduled from 4 to 6 p.m. (PDT) Tuesday, August 4 through Friday, August 7; several panels are scheduled for Saturday and Sunday, August 8 and 9.
"Flip the Script will include "daily, in-depth sessions on how the sex industry and sex spaces can become more inclusive and responsive to the needs of its BIPOC members. Sessions will include discussions of how to bring and support BIPOC leaders in the community, how to fight racism and colorism in adult production, and how to navigate race-based fantasies," a rep explained.
Mickey Mod, creative director for Kink.com, expressed excitement about the forthcoming "week of education and action."
"'Flip The Script' panels include a wide range of adult industry topics unpacking the unfair treatment of BIPOC folx in the adult entertainment industry," he said. "For Kink, it provides the opportunity to examine who we are, redefine our values, examine our content and decide how we want to move forward in support of a better industry for everyone."
"We are approaching these difficult topics with an informed and compassionate approach," Mod continued. "We hope that industry workers will walk away from these panels having learned actionable, specific and illuminated solutions."
The week's featured panelists are set to include notables from the adult industry and the kink community, among them Mod, Kink CEO Alison Boden and Venus Cuffs, Natassia Dreams, Daisy Ducati, Jet Setting Jasmine, Lotus Lain, Tyomi Morgan and King Noire.
"We are hopeful that 'Flip the Script' week will not only raise awareness about racial issues in the industry and kink community but also give immediate remedies to raising the standards and creating practices that reduce harm to performers and those that consume adult entertainment," said Jet Setting Jasmine, a therapist and the co-founder of Royal Fetish Films.
"Decolonizing sex for Black and Brown bodies is going to take uncomfortable conversations and convenings of people with influence; and we are glad that the Kink.com community is not only open to it but facilitating the space to address and put ideas into action. I am proud to be a part of the Kink.com community."
The panels are open to the public and will be free; however, "Kink is asking non-BIPOC members to contribute $5," said the rep. "No one will be turned away for lack of funds." The fee can be waived for industry members with the "INDUSTRY" promo code.
Click here for additional details and register at Kink's main Eventbrite page.
Here is the week's schedule of panels:
Tuesday, August 4

"How to Get More BIPOC Folx in Leadership Roles"

Wednesday, August 5

"Allyship and Accountability: What is Your Long Term Support Plan for BIPOC Folx"

Thursday, August 6

"Healing from Generational Trauma"

Friday, August 7

"ALL Black Lives Matter: Black Trans Fair Treatment and Representation in Porn"

Saturday, August 8

"Racial Equity on Porn Sets"
"Representation & Portrayals of BIPOC Folx in Porn"
"Intention vs Impact: Don't Police BIPOC Fantasies!"

Sunday, August 9

"BIPOC & BDSM: Essential Lessons for All Kinky Folx"
"BIPOC & BDSM: How to Diversify Kinky Spaces"
https://www.xbiz.com/news/253588/kink-com-bipoc-performers-set-flip-the-script-webinars