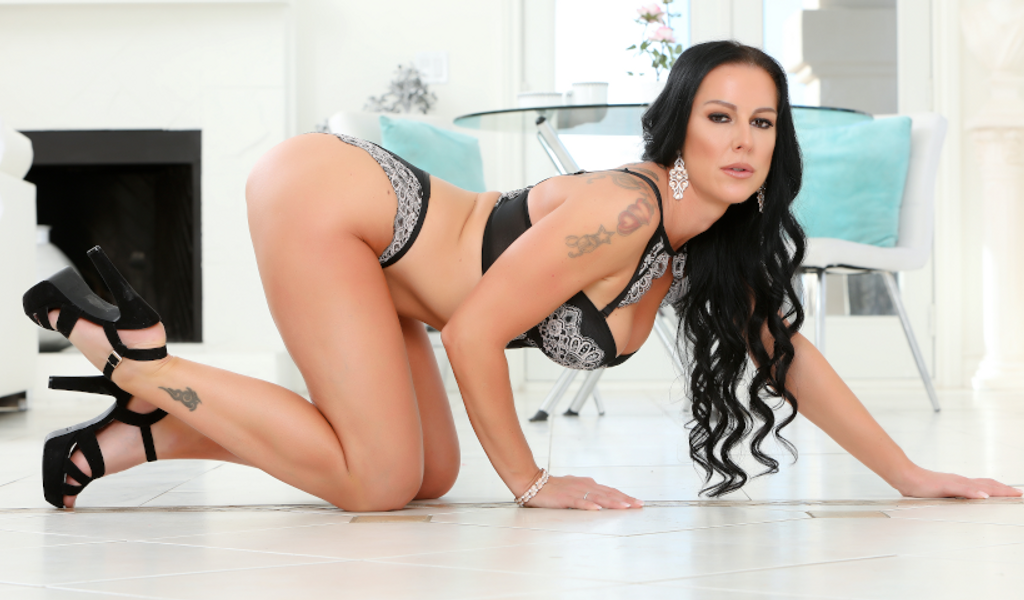 LOS ANGELES – Texas Patti isn't one to sit pat even in the middle of a pandemic, so when the opportunity to hit the road and team up with Fleshlight in a marketing tour, she took it and never looked back.
The striking brunette is today the star of Fleshlight's European tour where she is featured in videos where she meets fans on the street and shares her passion for the brand's best-selling strokers. The playful and frequently funny videos show the starlet educating and informing fans about the sex toy as well as her own life on and off screen.
To watch her most recent video click here. For all the videos, visit her on Instagram or click here.
"I thought it is a great idea to get in touch with the people in person," she said. "Fleshlight is really popular in the USA, but not so many guys in Europe know about Fleshlight. It's fun to talk to the folks and see how they reacted. I did similar tours, but for German companies."
Traveling to Prague, Berlin, Munich and several other European cities with her husband Patrick, the vivacious performer was the center of attention as she met with passersby and spoke to them about the Fleshlight and even took questions about how it worked and where it could be purchased.
"I started the tour in Munich. I was dressed up in a dirndl – it's the traditional wardrobe in Munich for women. My team and I went to the city. We filmed everything with our iPhone, but we didn't want that the guys see us before, because of a whole film crew, so surprising people is the secret!"
Although Europe was still suffering from the impact of the pandemic, Patti said she felt confident that she would be successful in connecting with people in this marketing effort.
"The most challenging part of the tour was to find the right people on the street. For sure I know it is a sex toy so that means we had to take care of some things," she said. "Like no children in the background or in the near of us an no people in front of camera who are really old. I think this is a question of respect. The best part of the tour was the reaction of the guys. Some of them were really shocked some of them were funny. But in the end it was interesting how different people reacted."
As her cameraman, wingman and husband, Patrick found the tour exhilarating and a perfect vehicle for Patti's effervescence and ability to connect with fans.
"She is so sexy, friendly and funny that she attracted a lot of people to her," he recalled. "It was a lot of fun to do with her and see the responses she got from all kinds of people."
While she continues the tour through the end of the year, Patti said she looks forward to return to shooting soon under new health guidelines during the pandemic.
"In Europe they started to shoot again. I missed it so much so I am really happy about it," she said. "But also during the lockdown Patrick and I were really busy. We used the time to work on some new projects. I had much more time for my customers on OnlyFans, AVN Stars, Qrush.com and so on. Getting closer to my fans and sharing my life and listening them was and still is a great experience."
Having entered the industry in 2011, the German-born starlet made her debut in for European studios such as Private, Puaka, Videorama and others. She would go on to make her mark with her enthusiastic performances for such studios as Brazzers, Hustler, 3rd Degree, Mile High, Naughty America, Kelly Madison Media and others, winning a number of awards, along with several AVN Award nominations, including one for Foreign Performer of the Year in 2019.
Meanwhile, Patti continues to create new content for fans on AVNStars, OnlyFans Qrush.com and other platforms. She is represented by OC Modeling.
For more updates on her activities, please follow her on Instagram, Twitter, Tik Tok and Facebook.
https://avn.com/business/articles/video/texas-patti-teams-up-with-fleshlight-for-european-tour-890634.html