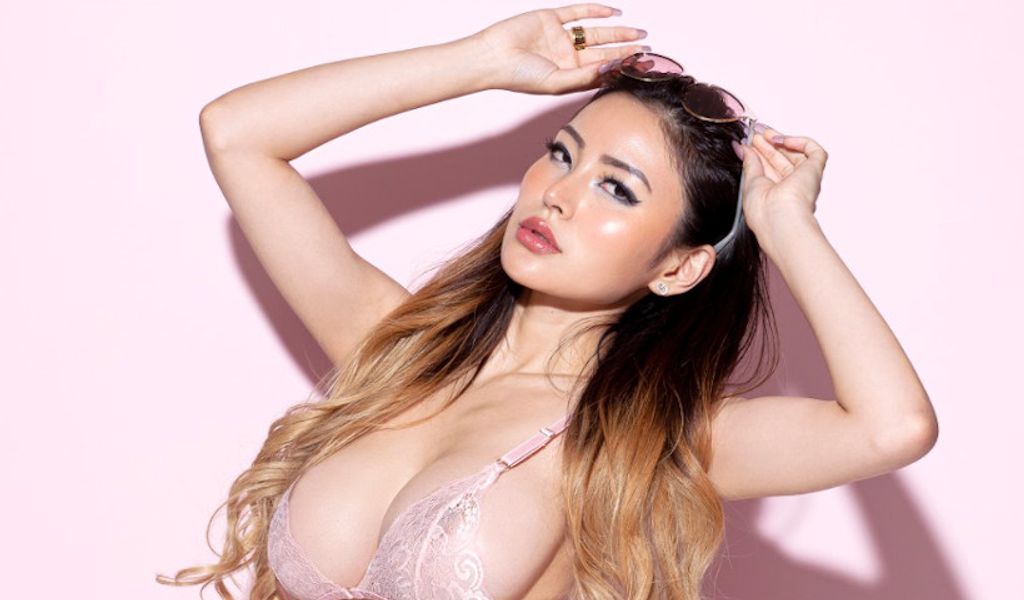 LOS ANGELES—Rae Lil Black got into playing video games during quarantine this year.
Now the Japanese star already has almost 200,000 fans following her Twitch streams and she even joined the Esports team Made in Thailand—known to gamers as MiTH.
"I just started because of the pandemic," Rae tells AVN. "Since I have to be at home and then I cannot shoot. Since I was living with my parents. So I started just to kill some time and then have some fun. And then now, I'm in a professional gaming Esports team.
"I'm not really good. They just invited me. I think it's a just an advertisement but I'm still honored to be a member."
Speaking of honors, Rae Lil Black in 2020 also made her debut as a playable character in a Heavy Metal Babes for Nutaku.net, the largest adult gaming platform in the world.
Black appears as herself in the free-to-play, turn-based, role-playing game available through browser and the Android app.
In the game, Rae is on a quest for an adrenaline rush, so she leaves her XEN mercenary group to join yours. Players get to watch Black do battle—and if they're lucky she might even do them, too.
The plot of Heavy Metal Babes unfolds in a futuristic world, where communication between Earth and a planet called X-69 is disrupted. Players must restore communication by teaming up with a squad of hotties.
Black, who at press time had a whopping 555,000 subscribers on Pornhub, where she is ranked 29th among the platform's Most Popular Models, knew about Nutaku from seeing their ads on the notorious tube site.
"There's always this pretty anime girls advertisement there," she says. "I'm so happy with my character. I love heavy metal. I grew up with heavy metal and hard rock, death metal and black metal. So I'm so happy with the character and this game.
"I really love it. There's so many people who played it and they're so satisfied, too."
Without question Rae's passion for metal has become part of her brand, even though she notes, "I don't really define anything."
"But I do have this really strong character who likes metal, who's into not dark side, but so many things—not only mainstream things. I support small business owners from record shops and stuff," says Black, who was a tutor for two years before porn.
"I collect vinyl, so I wanted to do both. I wanted to use my publicity to promote vinyl CDs, tapes and whatever."
One of Black's go-to artists is the late, great Van Halen, who passed away on Oct. 6 at 65.
"This morning I heard that Eddie Van Halen died," she said on the same day of her AVN interview. "And I was so shocked and I couldn't move for like 30 minutes in the bed. Van Halen is one of my favorite bands. Motley Crue, Bon Jovi, Iron Maiden, Judas Priest, Motorhead—I like anything."
The 24-year-old Pornhub standout moved out of her parents' house in her native Osaka to her own place in Tokyo earlier this year.
"It's OK. I guess I don't really like big city," she admits. "But there are a lot more opportunities here so…"
Even though Black doesn't yet consider herself a big-name performer, in fact all indications are she's well on her way to adult superstardom.
A 2019 Pornhub Award nominee for Most Popular Verified Professional Model, Black has accumulated more than 316.6 million video views on Pornhub in less than three years.
In October she sailed past 552,800 followers on her NSFW Twitter to go with another 40K-plus on her SFW Twitter. She also was making an impression on Instagram, where she had amassed a following of 675K-plus.
"I started marketing by myself," Rae says. "I was just watching how to increase the followers on Twitter, especially—what kind of picture gets a like or a retweet, what kind of caption makes people want to engage.
"With Instagram, it's really hard. I'm still struggling. Because I'm not working with production a lot, so nobody can promote me. I'm the only one who can do something. On Instagram, it's really hard if you don't have interaction with a lot of performers. But still, I'm trying."
Black makes the struggle look damn good.
In her social media bios it says simply: "Pure Fucking Raemageddon."
No argument here.
She created her Pornhub channel in 2017 and not shockingly, her first hardcore video took off.
"I always wanted to be like stripper or dancer," Rae confesses. "I wanted to be a sexy character since I was a little kid. I had this idea that porn stars are always hanging out with rock stars. I don't think [that] now. Now I think it's just my dream.
"But the first porn I've ever watched is Tommy Lee with Pamela Anderson. So I was always like, 'OK, if you are on like Playboy magazine, I can totally hang out with Tommy Lee and rock stars. OK, I kind of want to do this.'
"And then I was not doing it for that. But I was in Germany. I was traveling for one year. And then I was like, 'OK, I think it's time to start something.'"
Black came into adult with no prior modeling experience. She graduated from a university in March with a degree in law and politics.
"I'm proud of myself for finishing my school and doing my career at the same time," she says.
Rae remains beyond modest about her impressive ranking on Pornhub and her nomination for Most Popular Verified Professional Model.
"I still don't feel like I deserve that," she says. "I don't feel like I'm popular. I don't feel like I'm famous or anything. But I am so honored to get that."
The performer in August soared to the No. 1-selling video in the Pornhub Model Program—and it was only a solo masturbation.
"I actually wasn't thinking of doing porn full on. I was just curious," Black recalls. "My first plan was to do like two or three. But my first one got viral. And then I got so many messages from my friends from university and from my high school. So I'm like, 'OK, I think it's too late to quit.'"
Rae says she doesn't know why she became popular so quick.
"I don't think there are a lot of Asian models. So I guess that was it? Maybe. And I think my character with a lot tattoos. So I think it was kind of unique, maybe," she suggests.
"I don't have a partner. So when I started, I didn't know anything. I was trying to make videos, but I didn't have partners. So I was trying to get boys on Tinder. But not many people wants to shoot and put some content on Pornhub. I was so struggling, so I couldn't post regularly. If I find somebody, I'm posting and if not, I wait."
Nowadays many performers seek out Rae to see if she wants to shoot. She's performed with LeoLulu, Rob Piper, Lutro, Alberto Blanco and many more.
"As my name grew, they just contact me. They followed me on Twitter and Instagram and they messaged me to shoot with me," she says. "So I'm like, 'OK, I think it's going to be good experiences.' So I just said yes and then I started to shoot with professional performers."
She shot with Spanish stud Alberto Blanco during a trip to Spain. During her first trip to the U.S. as an adult performer—she traveled to America twice pre-porn—she did a scene for Kayden Kross's AVN Award-winning Deeper.com with 2018 Male Performer of the Year Markus Dupree.
"I was just there to attend the [2019 Pornhub Awards]and then after that, I got the offer. I was only staying for like five or six days," recalls Black, who estimates she's done about 100 hardcore scenes counting both amateur and pro outings.
Black says she'd love to shoot for Japan-based studios but that there is an unwritten rule in her country that if you shoot for companies abroad you won't get work locally.
"There's a rule—I don't know why," she says. "And then, Japanese porn industry pays a lot. Like really a lot. I think like minimum $3000 for a day and then one of the top girls—like if I have my followings in Japanese porn industry, I think I can get paid like $30,000 for one scene—or more maybe.
"So I think nobody wants to leave Japanese porn industry."
Rae, who says her first name means "beautiful or cold beauty" in Japanese, reveals the design of her personal logo was inspired by one of her favorite black metal bands, Mayhem.
"I was checking their Instagram and then they had some new merch. Then I was like, 'OK, this design is so cool,'" Rae explains.
She contacted the same artist who designed Mayhem's logo and asked if he could create one for her in her image.
"It's iconic, I think," she says.
Now Black has her own line of merchandise that she launched two years ago in limited runs. She wanted her merch to be exclusive.
"I wanted to make it kind of special, because I didn't have big followings. I think it was like two years I was doing it by myself. And then from this year I started using a company to just ship and everything," she says.
Black appeared with Asa Akira on the April 22nd episode of "Quarantine Cribs" on Pornhub's Instagram Live feed.
"I did it when I was living with my parents. And they don't know about it; they don't know about my work," Black says. "So I couldn't show around. I was just showing my room, which is like super small. I was like, 'OK, I cannot really show my house because I live with my parents.'
"They think that I'm a streamer, which is not a lie. And then I sell merch. I sell some stuff so they know that I am shipping t-shirt or hoodies or whatever. They think that I'm doing this kind of job."
Black lived in Munich, Germany for a year when she was 21 to "run away" from her parents for a span.
"It's like a song from Journey, 'Don't Stop Believing.'… 'Just a small town girl, living in a lonely world…who took the midnight train going anywhere.' I was listening to this song and thinking, 'OK, I'm gonna do this,'" she says.
"I mean, I just wanted to live with drama. Like OK, I'm just gonna live like this song."
While in Munich, Rae attended as many concerts as she could.
"I had one friend there but he was living a little bit far away from there. So I only met like once or twice I think. So I just went there because Germany is in the center of the Europe. And then I knew that if there's some band touring, I can travel a lot from Germany. It's really easy to travel and it's cheap. So I went to a lot of concert," she says.
Now, in addition to speaking Japanese and English, she also knows "a little bit" of German and some Spanish because she studied it for four years at college.
"I didn't have any opportunity to speak Spanish but I know words. I can understand a little bit. But I cannot speak a lot," she says.
Black says in the future she would like to expand her horizons beyond doing only adult work.
"I want to do a lot of stuff because I'm just curious about other industries," Rae says. "I love doing videos, so I'm not going to stop it but also I want to start new things. I just started on learning pole dancing.
"And then I started drum lessons. So maybe I'm gonna make a band. Maybe I'm gonna do dancing. I don't know what's gonna happen. I just shoot some scene for Netflix also. I got a role for a Netflix series. I'm hoping to do more for that kind of…not acting, but for the normal, safe-for-work stuff, too."
She can't reveal the details of her Netflix project, yet.
"It's gonna be huge," Rae teases. "My thing is just like a minute or two minutes, really. But this series is so big in like the world. So I'm so excited to get my scene released."
Photography by Darius Copeland/@whoisdvrxvs
https://avn.com/business/articles/video/raemageddon-rae-lil-black-on-video-games-performing-metal-890746.html