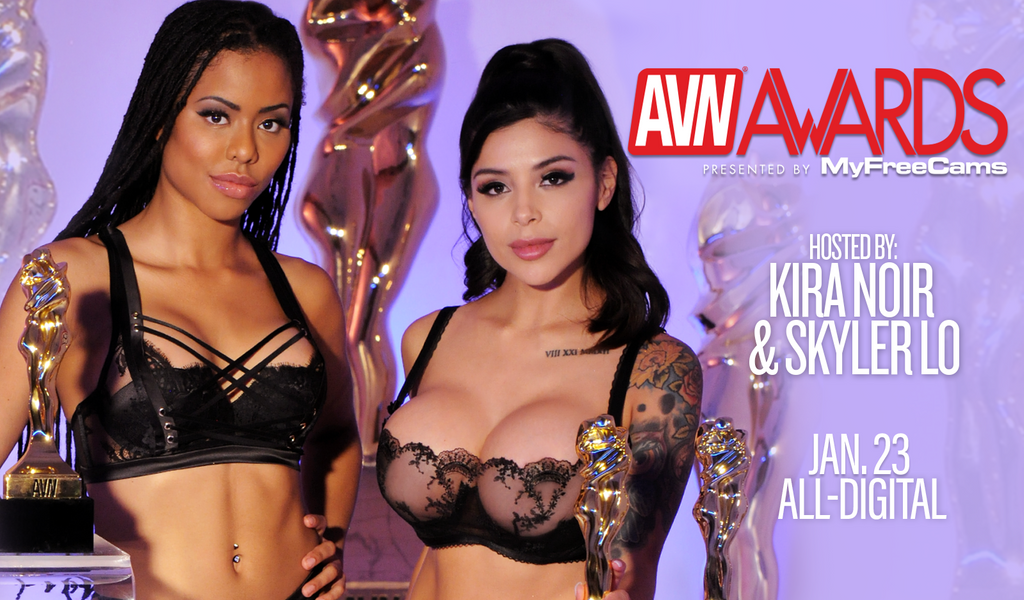 LOS ANGELES—AVN Media Network is pleased to announce adult entertainment superstars Kira Noir and Skyler Lo will co-host the 2021 AVN Awards Show presented by MyFreeCams.
Kira and Skyler will make their first official appearance together live on AVN Stars during the 2021 AVN Awards Nominations party starting at 8 p.m. PST this Thursday, Nov. 19, along with several special guests who will reveal the nominees in more than 120 awards categories.
The 2021 AVN Awards Show is scheduled for 8 p.m. on Saturday, January 23, when the ceremony for the first time will be an all-digital broadcast on AVN Stars.
Noir says she was "shocked" to receive the hosting opportunity this year.
"It's always been a bit of a dream of mine to be able to do this but I thought it was far off," says Noir, a former stripper at the Hustler Club in East St. Louis, who made her porn debut in early 2015.
Born in California and raised in Nashville, the versatile Spiegler Girl landed the cover of the November issue of AVN. Noir has amassed more than 370 performing credits en route to numerous industry accolades that include winning her first AVN Award in 2019 for her performance in the Best Group Sex Scene for Vixen's After Dark.
Skyler Lo, who was born and raised in L.A. and now resides in Texas, in the past four years has established herself as one of MyFreeCams' biggest draws. The personable cam model entertains a loyal crew she refers to as Skyler's Stars on MFC, where it's not uncommon for her to dance, flash, crack jokes, do shots and sing along to a pop tune—all in the span of an hour.
An exotic mix of Spanish, Mexican and Salvadorian who was featured on the November 2019 cover of CAMStar, Skyler says being asked to host the 38th annual AVN Awards "was just so unexpected it was surreal."
"I was super honored," Skyler says. "I never thought that would happen."
She adds, "It just means so much to me. … The fact that there's so many people in the industry it makes me feel so special that I was selected. It makes me really proud of myself."
AVN Media Network CEO Tony Rios is thrilled Kira and Skyler agreed to take the reins of the historic 2021 affair.
"Kira and Skyler embody all the qualities that make our industry great," Rios says. "They're beautiful, professional and incredibly talented entertainers and we couldn't be more happy they'll be front and center of our first-ever virtual broadcast in January."
https://avn.com/business/articles/video/kira-noir-skyler-lo-to-co-host-2021-avn-awards-show-890994.html