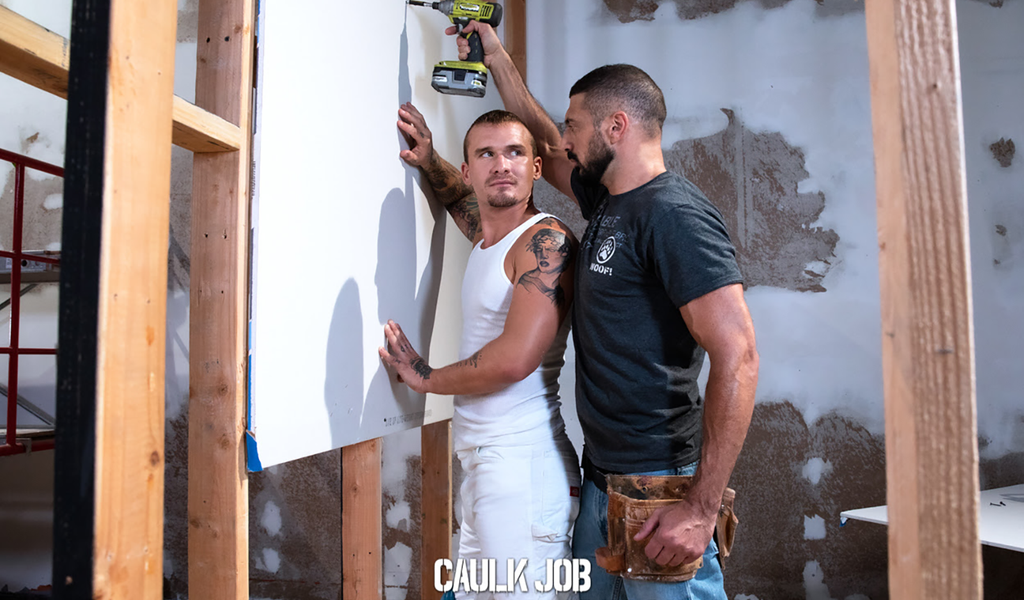 SAN FRANCISCO—Falcon/NakedSword imprint RagingStallion.com has announced that its latest bareback feature, Caulk Job, will be released on DVD and will be available for download at the Falcon/NakedSword store on Nov. 25. In the meantime, the company will make available a scene from that movie on Friday, Nov. 13, in which award-winning director Tony Dimarco mans the camera while blue-collar men Chris Damned, Isaac X and Marco Napoli fuck bareback on a job site.
According to a description provided by the company, in the debut scene from Caulk Job, carpenters Napoli and X are working with some drywall. X can't help but notice Napoli's chiseled muscles and musky scent. Without thinking twice, X pulls down Napoli's jeans and engages in oral action. During the pair's liaison, head contractor Damned catches them and joins the fun.
"Caulk Job kicks off with one of the best threeway trios I could have asked for," stated Dimarco. "Nothing hotter than rugged, sweaty men just looking for a release during a hard day's work, and Chris Damned, Isaac X and Marco Napoli deliver."
RagingStallion.com, featuring more than 1,700 scenes, including the world premiere of the debut scene from Caulk Job, is available for promotion through the Buddy Profits affiliate program. Affiliates can choose between $35 pay-per-signup or 50% revshare for all memberships they refer, including trials. Affiliates may visit BuddyProfits.com for promotional material. For more information about the Buddy Profits affiliate program, contact the Affiliate Manager at [email protected].
https://avn.com/business/articles/gay/ragingstallioncom-to-release-debut-scene-from-caulk-job-friday-890766.html