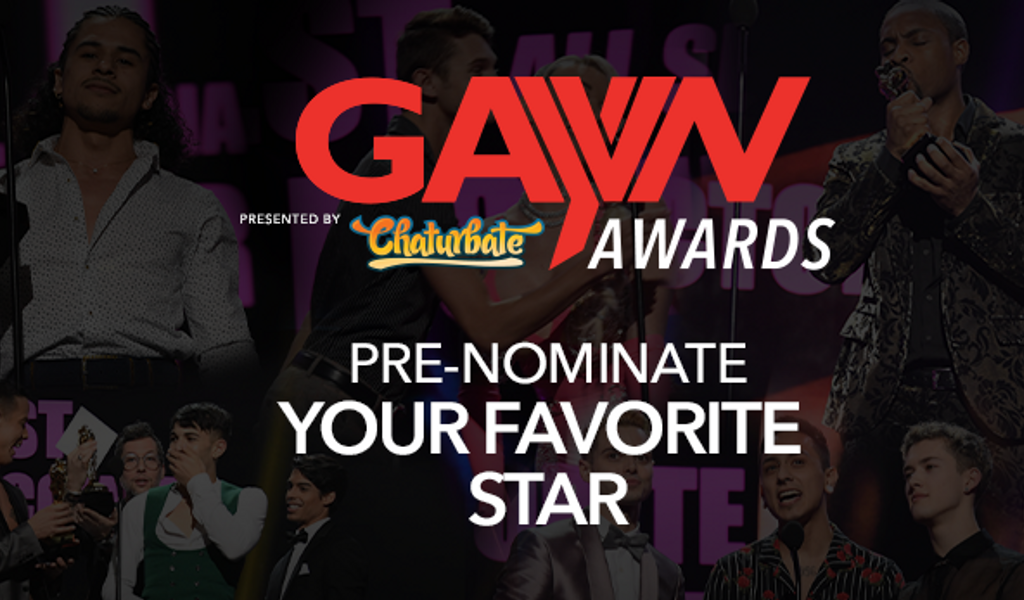 LOS ANGELES—AVN Media Network is pleased to announce pre-nominations are open for the fan-voted 2021 GayVN Awards through the GayVN Stars platform.
The general public and the adult industry is invited to pre-nominate their favorite adult performers and cam models for 2021 GayVN Awards consideration.
In order to participate in the pre-nomination process, fans must first sign up for an GayVN Stars account here. If you already have a GayVN Stars account, then click here to get started. Once you're logged onto GayVN Stars, choose the "GayVN Awards Pre-Nominations" selection from the pull-down menu below your profile picture.
After selecting "GayVN Awards Pre-Nominations," a model will be able to generate a personalized pre-nomination URL; models can send out the URL and ask their fans to pre-nom them for specific categories that are auto-filled. If a model wants to create his auto-filled URL, he first will need to have a GayVN Stars account—and he also must enable the "I am a GayVN Star" designation on his profile by toggling the switch in Settings.
When a fan selects "GayVN Awards Pre-Nominations" without being linked by a model, he or she will go directly to the pre-nom page where he or she may pre-nominate any performer or model.
However to be clear, it is not required for adult performers or cam models to have a GayVN Stars account in order for them to be nominated for a fan-voted GayVN Award—a GayVN Stars account is only required if a model wishes to generate his own URL to send to his fans.
Pre-noms for the fan-voted 2021 GayVN Awards are open now and will continue until midnight on November 9.
The final nominees for the fan-voted GayVN Awards will be announced by December 11—at which time live voting will commence.
The 2021 GayVN Awards Fan-Voting Categories are as follows:
Hottest Newcomer
Social Media Star
Favorite Cam Guy
Favorite Camming Couple
Favorite Top
Favorite Bottom
Favorite FTM Star
Favorite Dom
Favorite Cock
Favorite Butt
Favorite Twink
Favorite Bear
Favorite Daddy
Favorite Body
There also will be a special GayVN Stars contest launching in December for the GayVN Star of the Year title
GayVN Stars is a social media platform designed specifically for adult content creators to use without having to worry about being shadow-banned, locked out of your account, suspended or deleted for posting explicit material.
Sign-up is free for anyone; performers and cam models can earn money through GayVN Stars by setting a monthly subscription price to access their private content. GayVN Stars allows for photo and video sharing, live streaming, private messaging and daily video stories that disappear after 24 hours.
The 2021 GayVN Awards, presented by Chaturbate, will be held live via a digital broadcast on January 18, 2021.
The program will recognize exemplary achievements in performing, directing and movie production.
https://avn.com/business/articles/gay/pre-noms-open-for-fan-voted-2021-gayvn-awards-on-gayvn-stars-889552.html