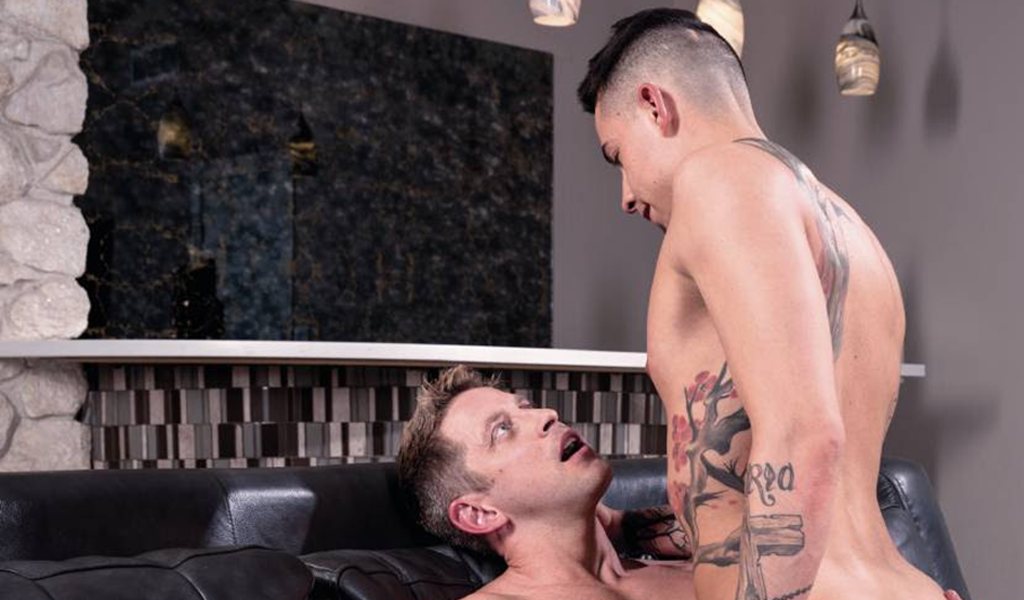 SAN FRANCISCO—In anticipation of tomorrow's release of the full DVD, FalconStudios.com has posted the debut scene from its upcoming bareback feature At Home With You. Directed by Steve Cruz, the scene stars Vincent O'Reilly and Johnny Ford, and will go live Friday, Oct. 23, on FalconStudios.com. The full DVD and digital download will be made available the same day in the Falcon/NakedSword store.
According to a scene description provided by the company, Vincent O'Reilly and Johnny Ford are home alone and making out on the sofa stroking each other's cocks. Vincent can feel Johnny's cock throbbing against his ass, so he gets between Johnny's legs to throat his uncut knob. It's not long before Vincent wants more, and Johnny gives it to him.
"Johnny Ford and Vincent O'Reilly got to set and sparked instant chemistry," said director, Steve Cruz. "There wasn't a time when they weren't kissing or sucking on something huge… even during the breaks. Satisfying to watch!"
FalconStudios.com, features more than 2,500 gay adult scenes. The premiere of the debut scene from At Home With You, is available for promotion through the Buddy Profits affiliate program.
Affiliates can choose between $35 pay-per-signup or 50% revshare for all memberships they refer, including trials. Affiliates may visit BuddyProfits.com for promotional material. For more information about the BuddyProfits affiliate program, contact the Affiliate Manager at [email protected].
https://avn.com/business/articles/gay/johnny-ford-vincent-oreilly-in-at-home-with-you-debut-scene-889696.html