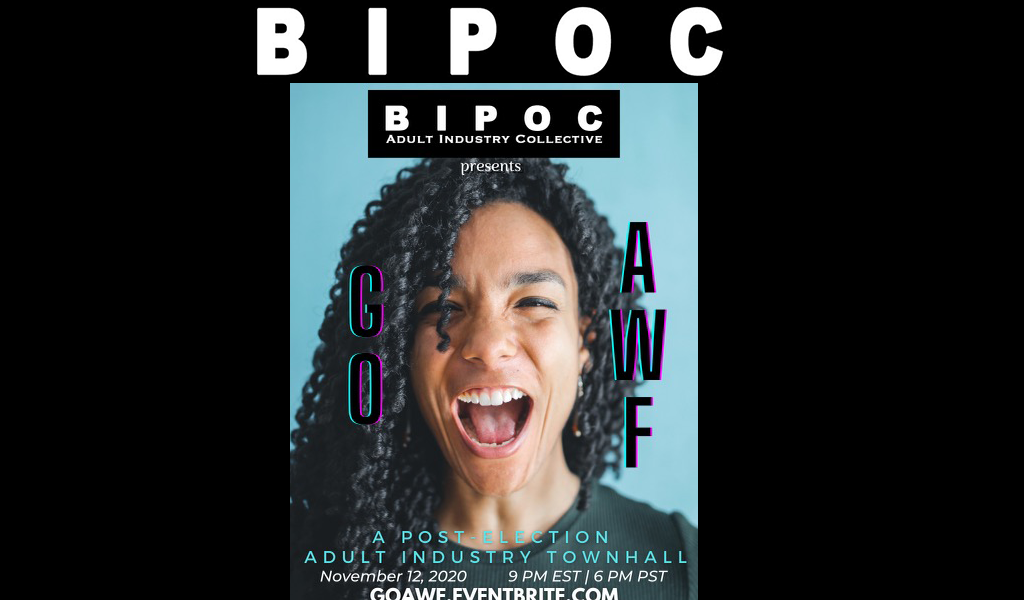 CYBERSPACE—The Black, Indigenous, and People of Color Adult Industry Collective (BIPOC-AIC) will be hosting "GO AWF!", a post-election town hall-style support meeting for all BIPOC members of the adult entertainment industry. The online meeting will take place on Thursday, Nov. 12, 2020, beginning at 6 p.m. PT/9 p.m ET). The chair of BIPOC-AIC's wellness committee, N. Jasmine Johnson of Blue Pearl Therapy, will be on hand to facilitate this safe space for BIPOC sex workers, content creators, and performers to provide emotional and psychological support. One of the purposes of the two-hour session will be to encourage attendees to voice fears and concerns surrounding the election cycle and its historic election results.
Last week, BIPOC-AIC tweeted, "Yes, let's celebrate the inevitable changing of the guard, the first BIPOC woman Vice President-Elect, but for those impacted by harmful legislation like FOSTA/SESTA, there are still concerns," addressing the unique challenges BIPOC sex workers face in supporting Kamala Harris.
The impact marginalized communities have faced from the out-going administration have included rollbacks of healthcare access, education, economic development, employment, housing, immigration rights, environmental safety, and, most recently, access to financial and physical protection amid the international COVID-19 pandemic and public health crisis. The recent spike in public and governmental support for far-right, white supremacist terrorist groups continues to traumatize Black, Brown, and LGBTQIA+ communities as the current administration questions the election's legitimacy.
GO AWF! will make space for marginalized folks to react and respond to all of these issues that disproportionately affect BIPOC sex workers. By contextualizing experiences among fellow sex workers, BIPOC-AIC will learn how to support that community better and strategize the next steps for the challenging weeks that will lead up to the 2021 inauguration.
Tickets for the town hall can be found on Eventbrite. The community may utilize BIPOC-AIC's weekly drop-in support group and yoga class for additional support as needed. BIPOC-AIC's yoga program is made possible by a sponsorship from TROUBLEfilms.
The BIPOC-AIC empowers adult performers, content creators, and sex workers through career development, skill sharing, and mutual aid to prevent vulnerability, challenge unfair business practices and working conditions BIPOC individuals disproportionately face in the adult entertainment industry.
BIPOC-AIC may be found on Twitter and Instagram.
https://avn.com/business/articles/legal/bipoc-aic-blue-pearl-therapy-throwing-post-election-town-hall-890670.html